Microsoft 365: The Next Generation of OneDrive
Microsoft announced its third generation of cloud storage OneDrive. With over a staggering 2 billion files added daily by trillions of consumers and businesses, the OneDrive web app is being overhauled to meet the demands of end-users whilst aligning with the Microsoft streamlined look and feel in all its products. Adapting to the dynamically changing landscape, OneDrive is more than cloud storage as it is the centre of Microsoft 365's file experiences, powering collaboration through file sharing spanning across SharePoint document libraries, Outlook in the form of attachments in meeting invites, Teams as documents that can be accessed and exchanged, and throughout Microsoft 365's suite of apps.
OneDrive is the central hub where users can easily find their files, dashboards, design boards, and loops that they need access to, no matter where the file lives and no matter where the user is accessing it from.
Sleek and user-intuitive, the new OneDrive web app provides effortless file management with ease of finding files, whether newly created or those shared with others.
OneDrive Home and Effortless File Management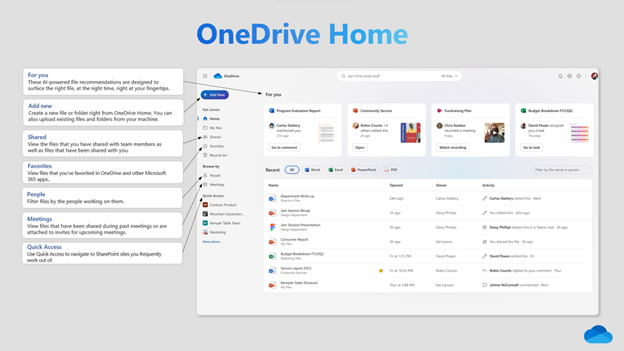 Navigation from OneDrive Home for Web is simple, and intuitive, and provides a streamlined process for accessing files, including shared files, while contributing to and supporting improved communication, organization, and collaboration.
OneDrive Home: from your OneDrive Home Web page, you can easily navigate and retrieve newly created files or those that are shared with others, plus easily open and see your most recently accessed files.
For You: located at the top of the OneDrive Home Web page, recommendations powered by AI are surfaced at the right time for you, ensuring that what you need is at your fingertips.
Add New: from OneDrive Home, users can create new files or folders and will be able to upload existing files and folders from their machine.
Shared View: one can easily lose track of which files have been shared with whom. In Shared View, all files that have been shared with you will appear here. It does not matter who shared the file or how it was shared. Shared View is the repository for all the files that you are collaborating on.
Favourites: Important files can be marked as a Favourite, which allows users to access the file from their Favourites list from Microsoft 365, SharePoint, OneDrive, Teams, File Explorer, and many other apps.
People View: how many of us cannot remember the name of a file, but we can remember who sent or shared a file with us? In People View, files are organized by the people you work with, providing a different context by finding files visually.
Meetings View: in this view, past and future meetings along with recordings and shared files are easily accessible regardless of whether they were shared in the meeting invite or the chat.
Shortcuts: no matter where the original location is, simply collect files for projects by creating a Shortcut to them in OneDrive. Shortcuts provide users with quick access to files that are shared with them and to files residing in shared Teams locations.
Colorful Folders: everyone organizes in their own way, and with Colorful Folders, users can assign colors to their folders to keep them organized or to highlight important folders.
Simplified Sharing: Copying links and sharing files requires fewer clicks and is extremely user-friendly.
More Goodies Coming Soon to OneDrive Web App
Open in App: from inside OneDrive, users will be able to open Word, Excel, PowerPoint, PDF, and CAD files in their respective desktop app, which in turn, will automatically sync in OneDrive. Expected release in December 2024.
OneDrive in Outlook: with the new Outlook for Windows and Outlook on the web, a new button for the OneDrive app will be added to the left navigation pane, making it simple and quick to add a copied sharing link in an email or to find a shared file, all without leaving Outlook. Expected release in December, 2023.
OneDrive in Teams: the Files app in Teams will be updated to the OneDrive Teams app which will allow users to access their files across SharePoint and OneDrive from Teams. OneDrive Teams app will leverage the new updates made to OneDrive and SharePoint library experiences, including new views, feature enhancements, and improved performance in OneDrive. Expected release in December 2023.
Files On-Demand for Web: files and folders are available offline and can easily be accessed on a device by selecting them to be always available locally, directly from OneDrive for Web. Once selected, users will have access to these files offline. Expected release date early 2024.
Offline Mode: Files that are available for offline access can be opened and worked on in the browser, even if the user is offline. Once the user's Internet connection is restored, all revisions that were performed in the browser will automatically sync back to OneDrive. Expected release date early 2024.
Add New: without leaving OneDrive, users can create a new file or folder. New files can be launched with a blank template or users can choose a rich template for a fast start. Expected release date Summer 2024.
Media View: this new view will, in one place, organize your media, including photos, videos, media, and images. Expected release date Summer 2024.
Copilot in OneDrive
Microsoft 365 is once again changing the datascape by utilizing AI to transform how users leverage, extract, and utilize the value from their files.
Copilot in OneDrive: without opening the file, and no matter where it lives (OneDrive, Teams, or SharePoint), users can ask open-ended questions related to an individual file or obtain a summary of the content with Copilot in OneDrive. The expected release date is December 2023 for all customers who have a Microsoft 365 Copilot license.
Microsoft 365 Chat: ask a question, and it will comb through your entire Microsoft 365 data universe, including data in SharePoint and OneDrive, and then it will connect the dots across all your content. Finally, it will gather and deliver the information you asked for.
Future of Copilot in OneDrive: an exciting future with Copilot in OneDrive is on the horizon as we steam towards supporting users with gathering, managing, and transferring knowledge with fewer clicks, greater intuitiveness, and streamlined speed.
Advanced Security and Governance
Advanced Security and Governance Admins have been empowered to tighten access to content, protect content from over-exposure, govern sharing, and assist in the migration of content in a safe manner during mergers and acquisitions with the new tool SharePoint Advanced Management (SAM). Unless otherwise noted, the capabilities below are currently available.
Granular Conditional Access Policies: multi-factor authentication can be added to specific users who require access to confidential files. By doing so, this fine-tuning will help ensure that the user will not accidentally access or leak sensitive information.
Restricted Access Control: admins can block users from accessing shared files in specific OneDrive accounts by limiting OneDrive access to members of a specific security group. This restricted access control policy ensures that only users in a specified security group will have access.
Moving OneDrive Accounts Across Tenants: companies grow, whether by mergers, acquisitions or organically. With cross-tenant OneDrive migration, admins can move OneDrive accounts across all tenants. The beauty of cross-tenant OneDrive migration is that all existing shared links will continue to work with the redirect feature.
Block Download Policy: SharePoint admins and global admins for Microsoft 365 can block the downloading of files and Teams meeting recordings from OneDrive or SharePoint sites. Users will have browse access only and will not be able to print, download, or sync files. Note that this feature can be set for individual sites but not at the organization level.
Collaboration Insights: Sharing patterns and user-centric collaboration can be identified across the organization, allowing admins to drill down on accidental sharing which is the main driver behind data leakage. (Available in private preview only)
Data Export for OneDrive Sync Client Admin Reports: as part of Microsoft Graph Data, data-driven admins will have reports on health, errors, volume, and more for SharePoint. Once available in Azure, admins will be able to visualize, analyze, and report on this data through Azure Synapse and Power BI.
With these tools, admins will be empowered to protect their organization's content from intentional and unintentional exposure.
Consumer Photos: Improved Search
Search for People: with your permission, OneDrive can search and find images based on the names of the people in your photo collection, but only after you name the people in the images. This search feature searches and browses photos based on the people in them.
Search Your Photos Using Natural Language: going beyond object recognition, this search will allow users to search with specific parameters such as people, objects, settings, and specific places. Images that surfaced will include the specific details that the user included in the natural language search.
Beginning October 2023, these AI search features will be available in limited preview for consumers on OneDrive for Web and OneDrive mobile app. A public preview is expected in early 2024.
The next generation OneDrive for the web is super exciting as it brings many new features that are designed around user accessibility and streamlined, quick, and easy access across many Microsoft 365 apps. OneDrive is no longer a cloud storage app. Instead, it is evolving to be the central hub for data access across the Microsoft 365 platforms for online and offline users.