Search Web Parts – Collab365 Global Conference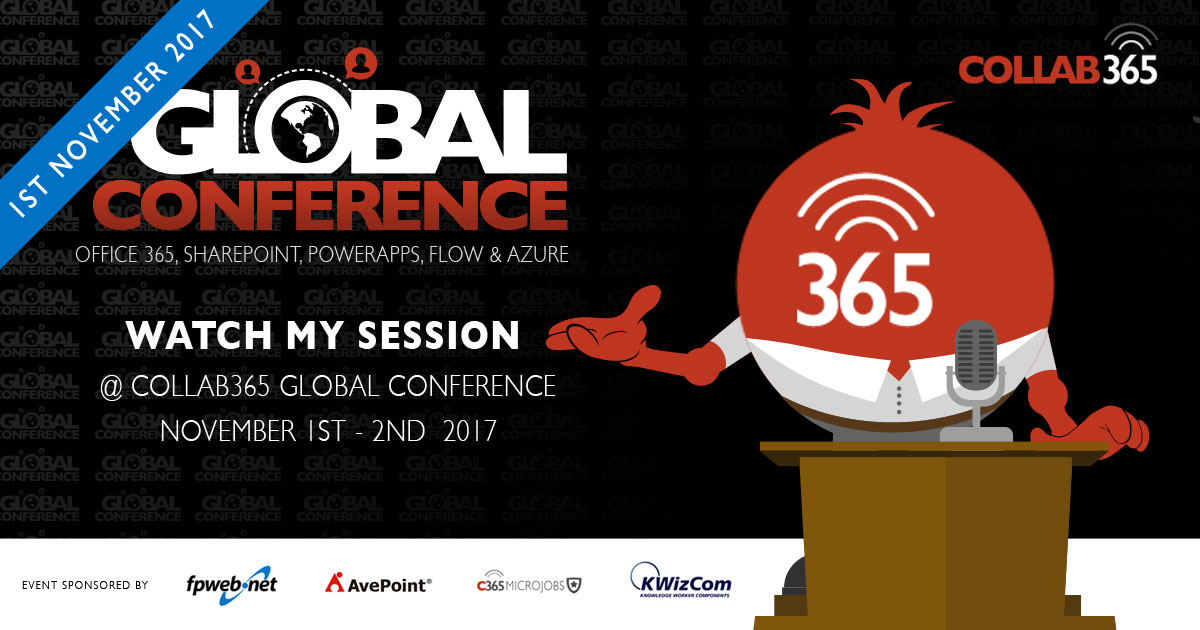 Have you heard about the virtual Collab365 Global Conference 2017 that's streaming online November 1st – 2nd?
Join me and 120 other speakers from around the world who will be bringing you the very latest content around SharePoint, Office 365, Flow, PowerApps, Azure, OneDrive for Business and of course the increasingly popular Microsoft Teams. The event is produced by the Collab365 Community and is entirely free to attend.
Places are limited to 5000 so be quick and register now.
During the conference I'd love you to watch my session which is called : 'Search Web Parts'
Content Search Web Part (CSWP) is one of the great web parts in O365 and on-premises. In this session, Mike will demo how to configure a​nd use the CSWP, and build a dynamic O365 branded portal with CSWP only. In this session, we will review: 1.Creating Queries using Keyword Query Language (KQL) 2.Building dynamic queries 3.Creating and customizing HTML Display Templates​​.​
If you join me, you will learn:
Creating Queries using Keyword Query Language (KQL)
Building dynamic queries
Creating and customizing HTML Display Templates
Building Search Driven Portals
Topic(s):
Office365
SharePoint
Audience :
IT Pro
Time (in UTC) :
Thursday, November 2 2017 5:00 PM
How to attend :
Register here.
At the time listed above go here to watch my session. (you can also add me to your own personal planner from the agenda.
Be ready to take notes!
SharePoint Hub Site Announced at Microsoft Ignite

A new SharePoint site, SharePoint Hub Site, was announced at Microsoft Ignite 2017 in Orlando. The purpose of the SharePoint Hub Site is to provide a point of organization for content across SharePoint sites. Hub Sites allow you to associate SharePoint Team Sites and Communication Sites with a parent thereby streamlining and alleviating the issues of locating related content across the organization that appears in other sites. Associating multiple Team Sites and Communication Sites provides the flexibility to model and promote an intranet that reflects the way that your people in your organization organize. Across associated sites, Hub Sites provide a common navigational structure, look, and feel. Hub Sites also aggregate news and activities, displaying the roll-up on the Hub Site's home page. SharePoint Hub Sites can be used to organize content, teams, divisions or resources throughout your business.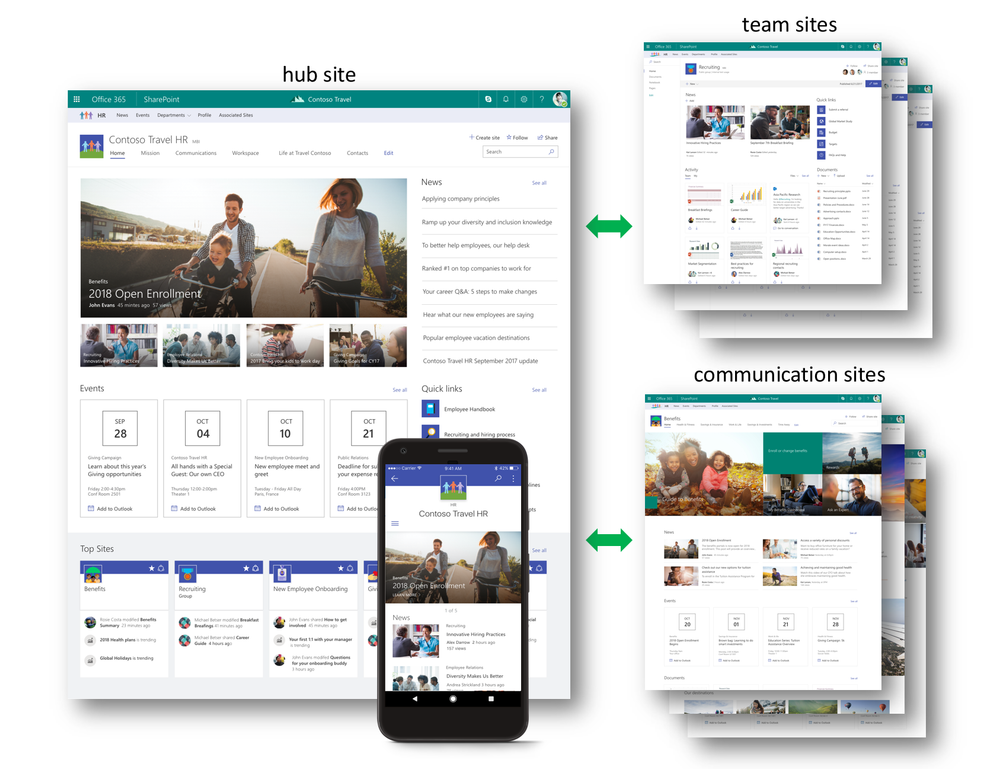 How do SharePoint Hub Sites work?
Newly created SharePoint Hub Sites propagate the navigation to all the associated sites, creating parent/subsite relationships. Consistency across sites go from the top down so that all team sites or communication sites inherit common characteristics from the Hub Site. These characteristics include:
1. Navigation: Define top navigation in the hub site that is inherited by associated sites
2. Themes: Define the look and feel of the hub site. This theme remains consistent across all associated sites
3. Logo: The logo is the most important identifier of the site you are visiting. The logo remains consistent across all associated sites providing the message that says, "You are here, and you have not left"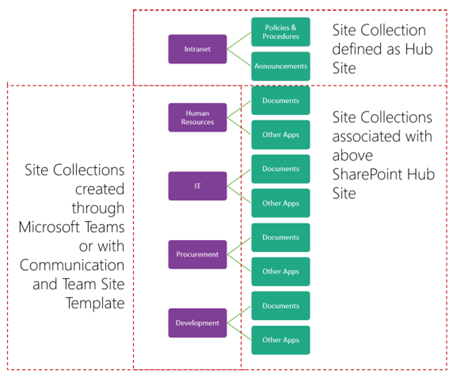 SharePoint is a tool for collaboration and the sharing of information. Within an organization, there can be numerous project teams working on a variety of projects and it is important to increase awareness, visibility, and discoverability to encompass those who are not part of the core team. It would be unreasonable to expect your audience to search and drill down for the information, but having access to clear, concise communication that expresses in a broad sense of what is happening with the projects and initiatives would be valuable. Team sites and communication sites push information and content up to the hub site level with rollup web parts. These parts can surface content from all your associated sites into one place, allowing the flexibility for you to shift your content and associate it where it makes the most sense, unlike rigid hierarchy.
Content is pushed up to the hub site level with news aggregation, combined site activities, and scoped search.
News Aggregation: After creating and publishing a news article on an associated site, the news article will surface on SharePoint home, in the SharePoint mobile apps, and on the hub site's home page.
Combined Site Activities: Site activities are visible on a team site's home page as well as on the site's card on SharePoint home. Site activities will roll up from each associated site, becoming visible on the hub site's home page. This provides the ability to see what is happening across related sites in one view rather than going site by site. With this information, you can now prioritize and focus your time.
Scoped Search: Searching content from a hub site will result in content from all associated sites which in turn increases relevance and enhances content discovery.
Creating SharePoint Hub Sites
Hub sites can either be created by Administrators who then associate existing team and communication sites to the newly created Hub Site from SharePoint home in Office 365. You can also create an associated site directly from within the hub site itself.
The site owner can associate an existing team site or communication site within a hub site by following these steps:
1. Click the gear icon located on the upper right of the site
2. Click Site Information
3. In the Edit Site Information, click Hub Site from the drop-down menu. Choose the right hub site to join.
It is important to note that team sites and communication sites can only be associated with one Hub Site.
As intranets are dynamic, associations may change as projects come to completion and new projects added. It is easy to un-join a Hub Site as it is to join it, allowing you the flexibility to adapt to the ever-changing landscape of the intranet.
SharePoint Hub Sites and SharePoint Mobile App
Team collaboration and the sharing of information launched itself off the desktop onto mobile devices and SharePoint Mobile App is being updated to render hub sites, their pages, news, and content with smooth navigation between associated sites and scoped search. SharePoint Mobile App will continue to provide quick access to all your sites, news and team members you work with but now with added, enhanced search for content and people across your organization.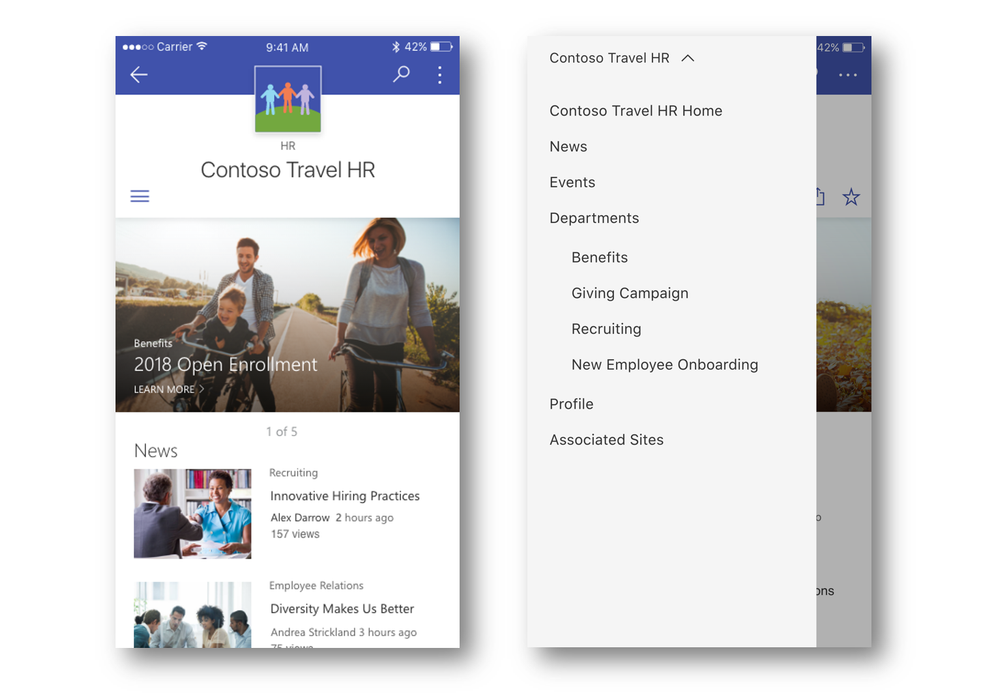 The building blocks for your intranet have now expanded from the classic publishing sites and sites for application to include team sites, communication sites, and hub sites. Sharing, managing, finding content, knowledge, and apps, on any device, is easily accomplished with SharePoint, the solution that connects your workplace with its people.
Big SharePoint, OneDrive and Office 365 Announcements

This year's Microsoft Ignite unveiled exciting new products and innovations that span across its entire business software and cloud spectrum. Focusing on empowering the modern workspace, Microsoft has made advancements in management, security, and intelligence as well as recognizing new groups of users.
Office 365 targets two new groups of users through its two special packages. The first is for education, Microsoft 365 Education, and the second, Microsoft 365 F1, for first-line workers.
Microsoft 365 Education
Microsoft 365 Education provides the tools for students, faculty, and staff to create and work together securely in the classroom. Office 365 brings its productivity applications and combined with Enterprise Mobility + Security, Minecraft: Education Edition and Windows 10, students and teachers alike have a powerful system to create, learn and grow together in the classroom. Microsoft 365 Education is offered in three different plans as Microsoft 365 A1, Microsoft 365 A3, and Microsoft 365 A5. The fourth plan for non-profit organizations is in the works. There are price point differences between the plans, and the differences between each are compared below.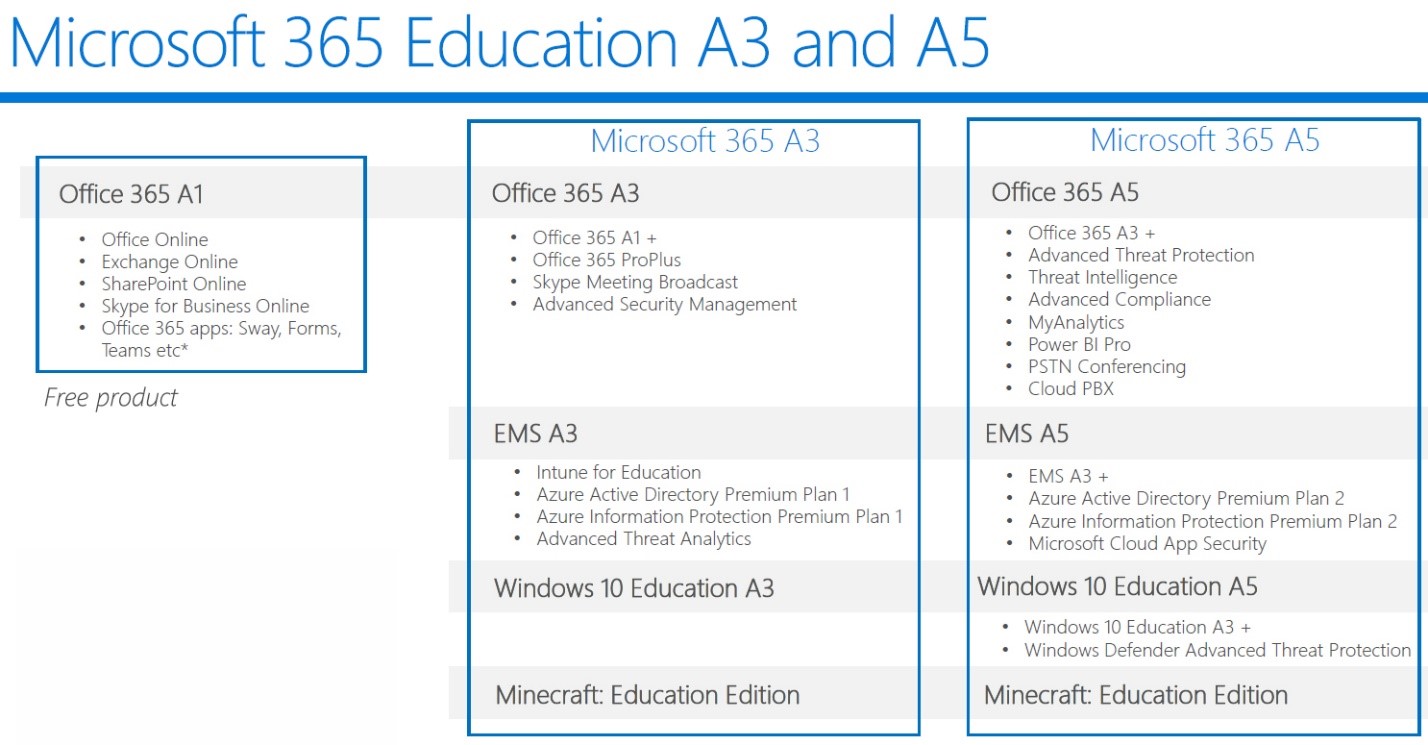 Microsoft 365 F1
Who are first-line workers? Any staff who has direct contact with a customer while providing a service or care to the customer is a first-line worker. First-line workers account for nearly 2 billion workers worldwide. Microsoft 365 F1 promotes the growth and development of the community and culture amongst first-line staff. It also trains and upskills employees, digitizes business processes, delivers real-time expertise with minimized risk and cost. Many first-line workers work shift work and to help manage their schedules, Microsoft 365 F1 offers a new feature – StaffHub. Combined with Windows 10, front-line staff is now able to stay connected, automate device deployment and manage single-purpose devices. In response to the need for devices for first-line workers, Microsoft is offering through its OEM partners HP, Lenovo, and Acer, streamlined and secure devices loaded with Windows 10S. Through its OEM partners, the total cost of ownership is reduced, and these select entry-level devices (HP Stream 14 Pro, available in October, and the Lenovo v330, available in February) will provide cloud-based identity and management for the first-line environment.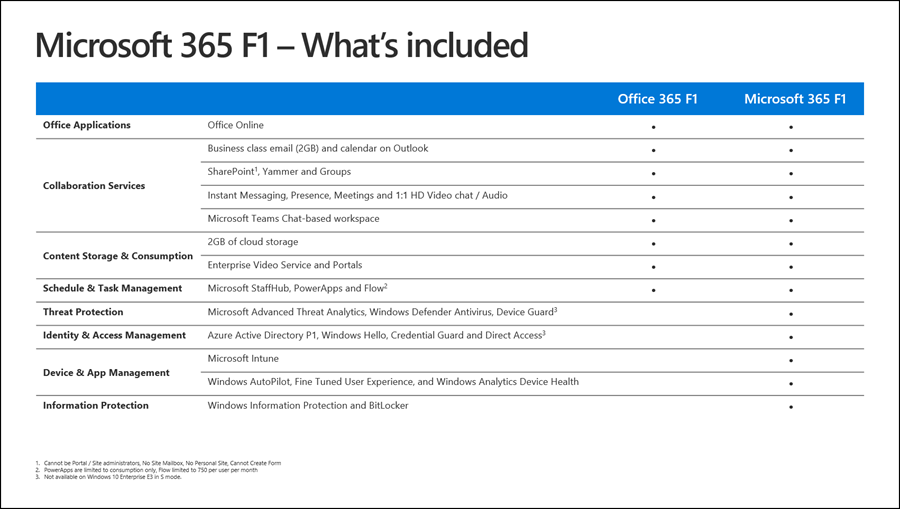 Office 365 continues to evolve, enhancing and supporting employee creativity. With the emphasis changing from routine tasks to creative problem solving, Office 365 is adapting, providing users the tools to express their ideas effectively and the ability to build upon the work and expertise of others, resulting in the creation of compelling content.
The Improved Excel
Harnessing the abilities of AI and combining it with Excel has resulted in a powerful, sleek, and fresh Excel that will understand new data types, beyond numbers and texts that are currently recognized, and augment these new data types based on public and enterprise information. For example, Excel will now recognize that "India" is a country and the acronym "MSFT" is a stock. Also, releasing in the spring of 2018, Insights, a service reserved for Office Insiders, will derive insights from complex data using AI to find and recommend patterns.
Searching with Results
Searching capabilities can now be initiated from SharePoint, Office.com, the Windows taskbar as well as Bing for Business. From so many sources to initiate your search, it becomes simplified to find your information from across your organization and beyond. Whether you are searching for a person, content or a site, Microsoft Graph powers the engine and provides consistent and personalized results.
Linking in with LinkedIn
From within Office 365, you can now view LinkedIn profiles in Microsoft apps and services. Currently rolling out to first release customers, this ability provides rich insights about the people who you work with, whether they are within your organization, or external to your organization.
Threats and Protection
With all the new and enhanced features of Office 365, security and protection have been addressed through advanced threat protection, including features that address phishing, impersonation and domain spoofing. Preventative measures including multi-factor authentication, including third-party access, expansion of conditional access capabilities, encryption of emails and documents when using consumer email services such as Outlook.com and Gmail, protection of information (detect, classify, protect and monitor your data wither it is stored or shared), and applying compliance measures as per regulations.
SharePoint and OneDrive
The biggest announcement at this year's Ignite: SharePoint 2019 is coming! Productivity applications include Word, Excel, PowerPoint, and new versions of Skype for Business, SharePoint and more!
OneDrive is a powerful feature which provides the ability to securely share files across Office 365 not only with people who are within your organization but also with those who do not have an account and are external to your organization. Not only can you share content, but you can now see who has viewed the shared files in OneDrive. Web versions of Office now open faster than ever. Supported in the desktop version of Excel for Office 2016 is co-authoring. Thumbnails and previews have been improved along with the ability to connect existing sites to Office 365 Groups. There is also deeper integration with Microsoft Team.
The Combined Power of SharePoint and OneDrive
SharePoint and OneDrive are now integrated with PowerApps, Microsoft Flow, Power BI, and Microsoft Form, each of these provides the resources and capabilities to create and share custom forms, applications, and workflows that automate processes.
Within SharePoint, rich forms can be built from blended data, retrieved from lists with over 160 online and on-premises data sources. Custom forms with Power Apps provide solution‑creators the tools to build these forms within SharePoint. The Column Formatter allows power users to add rich formatting and interactivity to data in SharePoint lists and libraries. If your lists are becoming large and unwieldy, Predictive Indexing in SharePoint automatically sorts, queries and indexes your information into workable lists and libraries. Simple forms and interactive visualizations can be added to any SharePoint page with Power BI & Forms web parts. Finally, you can add PowerApps to any SharePoint page with PowerApps web parts.
Flow for OneDrive provides you the capability to build and launch Flows directly from within OneDrive to automate processes for your personal files. Triggering the Flow Launch Panel, an inline panel prompts the user to enter information that is used by the flow. Routing a document for review and feedback is built in Flow, ticketed as Document/Item Review. Finally, custom processes can be built with Flow with the Custom Approval Action, which requires formal approval check-in and approval before content for libraries can be published.
Microsoft Teams and Skype
As Microsoft Teams begins integrating voice and video capabilities, along with chat, to become the main workplace communications collaboration app, Skype continues to receive an enhanced infrastructure for improved video and voice communications. Microsoft Teams now has the added calling features of call transfer, calling to and from external phone numbers and voicemail as well as insights from Microsoft Graph. Teams will evolve as the primary client for communications in Office 365, and over time, will replace Skype for Business.
SharePoint and Yammer
The question of whether Yammer is a product that will stay or be replaced was partially answered at Ignite this year with the announcement of several new updates. These include new mobile-ready web part for integrating Yammer conversations into SharePoint Sites, SharePoint documents have an enriched preview and editing experience with Yammer, Yammer Groups connected to Office 365 will have default SharePoint file storage and OneNote services, launching video and voice calls directly from Yammer, and the ability to see Presence straight from Yammer.
In addition to all these great features, there is one last improvement that was announced at Ignite. This important piece of news is the new building block of the intranet – SharePoint Hub Sites, which we discuss in detail in this article.