Microsoft Search and SharePoint Search
Sharing of information and knowledge is the basis for a collaborative environment, but the collaborative environment is only as powerful as the capabilities built into the software that provide the abilities for the user to search for this information. Without strong searching capabilities, navigating to find specific information would be a major struggle, working against the whole premise of collaboration.
Microsoft Search is the powerhouse for bringing together search results from several data sources in Office 365 including SharePoint, OneDrive for Business, Teams, Groups, Yammer, and more. Driven by Bing's search engine and leveraging AI, Microsoft Search brings data from within your organization and from the web in a single experience. Worry-free security authenticates users to ensure that only users allowed to access corporate content will receive the content by de-identifying search queries and logs, thereby separating these from public Bing search traffic. Microsoft Search is fully customizable allowing you to add your logo, use branding colours, company name, and more. This can all be accessed through the Microsoft 365 admin center.
With Microsoft Search, you have the flexibility to target specific groups of information to be shared with. Finding answers to questions, like troubleshooting, policies resources, can help support wise resourcing and decrease support costs by allowing users to become more independent in finding the answers that they are seeking.
The key admin features of Microsoft Search include the following:
Enterprise Bookmarks: find information including sites and tools within your enterprise;
Enterprise Q&As: here, you will find answers to the most frequently asked questions in your organization;
Import and Export Bookmarks and Q&As: bulk importing, exporting and editing streamlines the creation and updating process;
Location: on a map, locate your organization's buildings, workspaces, and offices;
Management: create content, configure, and define search keywords and phrases;
Users and Permissions: both the Microsoft Search administrator and the Global Administrator will be able to authorize and add admins to manage the Microsoft Search configuration, editors who can create content, and end-users who can have access to Microsoft Search; and
Analytics: provision of data of how your organization is using Microsoft Search.

What benefits will the end-user receive? These are a few of the key features for end-users:
People: find people, understand their company role, projects they assigned and working on and contact information;
Organizational Charts: a visual depicting a person's place in the hierarchy of the organization, their peers, management and direct reports;
Files: find relevant and contextual files on SharePoint and OneDrive for Business;
Office 365 Groups: Find a group by its name, or by a member name, explore groups that a person belongs to, and browse shared content;
Resources and Tools: find the information you need with links to internal and external resources;
SharePoint Sites: search a site by name or see results for a group or person;
Teams and Yammer Conversations: from public and group conversations, you can find contextual and relevant results;
Locations: find the address and map results for buildings, campuses and offices; and
First-Run Experience: for first-time users. With an initial sign in to Microsoft Search and Bing, they will receive information about using it including the types of work results they will find when they search.
SharePoint Online provides both a classic and modern search experience. Even though both experiences differ, they have one commonality and that is they use the same search index to find search results. With a modern search experience, your results shown are based on your previous activity in Office 365 and are very personal. Two users can use the same search parameters, but different content will be presented due to previous searches. Visual, intuitive and easy to navigate, the modern search experience provides ease of access and use for your users.
Because the modern search results page is not built with web parts, the modern search experience cannot be customized. However, the classic search experience can be customized and some of these customizations will have a limited impact on the modern experience. The following classic search settings will also apply to the modern search experience:
Search Schema: this determines how content is collected in and retrieved from the search index. This will affect both experiences with the exception of the Sortable, Refinable and Company Name Extraction schemas which only apply to the classic search experience;
Default Result Source: in the modern search experience, the results displayed are from the default result source only. If the default result source is changed in the classic search experience, it will also impact the modern search experience
Remove Search Result: temporarily removing a search result will remove it from both experiences; and
Promoted Result: users in both experiences will see organizational level promoted results. For the modern search experience, users will need to navigate to the All tab on the search results page and have searched across all of SharePoint to see the promoted results.
Whether you use the classic or the modern search experience, it is important to:
Make sure that content can be found. Content will only be searchable once it has been crawled and added to the search index;
Make the search results look amazing. Choose and create the right presentation format so that is it easy for your users to understand, access, and navigate;
Show relevant search results. These can be customized by managing the search schema, query rule, query suggestions, result sources, result types, search dictionaries, authoritative pages, and with the export and import of search settings as well as using query transforms; and
Check your analytics including logs, limits, and reports. These will provide information on whether the crawler has added content to the search index and if users are finding what they are searching for.
This all sounds great, but how does SharePoint Online search work? A simple explanation is that each document's detailed information is stored within the site columns in the lists and libraries. The search follows this path and is graphically depicted:
Crawling: Search crawls the lists and libraries. Site columns and their values are added to the search index;
Search Index: in the search index, site columns are mapped to manage properties;
Query Entry: the query that the user enters in a Search Box Web Part is sent to the search index; and
Results: matching results are found by the search engine. These are then sent to a search results page and displayed in Web Parts.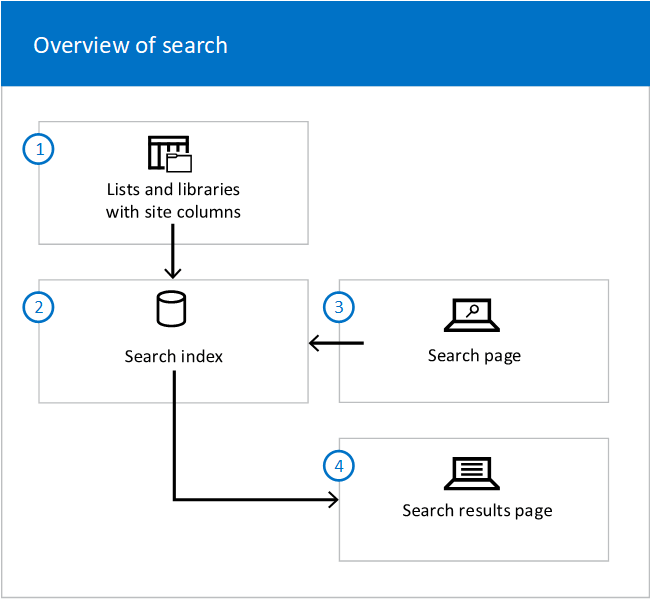 By using the power of Bing's AI search engine, Microsoft Search provides the powerful capability of searching for contextual content across several Office 365 platforms and the web to bring results to your organization and its users. Microsoft Search drives SharePoint Search, thereby providing your users the ability to search for content that is relevant to their projects, knowledge base, and skill sets across platforms and the web. Collaboration has never been easier and intuitive.
SharePoint 2019 New Features
The new features in SharePoint 2019 are based on three themes. These themes involve the users' experience that is developed through SharePoint Online, content engagement across all platforms, and powerful scaling security and compliance capabilities.
What is new for SharePoint 2019? SharePoint 2019 will have many new and added features that enhance the "modern experience", making it flexible, mobile, compelling and easier to use, especially for on-prem users. These new features include:
SharePoint Home Page: The home page will provide users with the ability to easily find and access SharePoint sites within the organization. Additional information will include the news from the sites that they are following as well as from suggested sites. If the administrator has given the user permission, the user will have the ability to create new communication sites from the home page. There are three out-of-the-box templates available:

Topic which consists of four default web parts (Hero, News, Documents, and Events);
Showcase leverages the default Hero and Image Gallery web parts to visually highlight products, events, and people; and
Blank which provides a clean canvas so that you can customize with your own modern web parts;


Modern Lists and Libraries: Bringing List and Libraries in parallel with SharePoint Online, the modern experience is now the default for team sites, though Classic is still supported. Users will be able to copy and move files using the command bar as well as add files as links, filter and sort easily, pin documents, and apply column formatting including adding columns and rows to SharePoint Lists with JSON markup.

By combining the powers of SharePoint 2019 and OneDrive, Libraries has a modern sharing experience with an updated and intuitive UI. Previous syncing and integration issues are now solved so that tasks, like creating new folders, saving documents, and uploading files in SharePoint and/or OneDrive, can be done at any time and from anywhere;
New Team, Site Pages: As the communication site, users and teams can share messages, news, broadcasts and they can also display stories. With the new Hero web part, five items with text, image, and links can be displayed, drawing attention to the most important content;
New Pages: Comprised of web parts, new pages are fully customizable to the needs of the user. Users will have the ability to add Word, Excel and PowerPoint documents, images, feeds like Yammer, site activities, and embed videos;
Modern Search Experience: Using intuitive logic, the modern search experience will suggest relevant content before the user enters a keystroke. The results update as the user types in the criteria. The search results page shows an overall of search results and is grouped by type;
Lists: The modern lists simplify how users and teams create, curate, and interact with the information. Individuals and teams will be able to share, access, and collaborate around structured data. Additionally, information from other systems can be leveraged into SharePoint to support business processes.
True to its purpose, SharePoint continues to support collaboration between teams and individuals in their organizations. As SharePoint updates to 2019, there will be some features in 2016 and 2013 that will be deprecated and these six features will be:
Aggregated Newsfeed: The tile in the app launcher and the option to implement the newsfeed capability will be removed. The existing aggregate newsfeed will become read-only. The suggested solution is to use communication sites and Microsoft Teams;
Custom Help: The existing engine in SharePoint will be removed in the future. For the Microsoft legacy on-prem SharePoint help engine, it will be updated and will synchronize with O365;
SharePoint Designer 2013: SharePoint Designer 2013 will continue to function with SharePoint Server 2019 until 2026 where support will officially end. Alternatives include PowerApps and Microsoft Flow and both are available via the on-prem data gateway;
Multi-Tenancy: Inline with migrating services to the cloud, multi-tenancy capabilities are building dependencies on cloud technologies, and for on-premises environments, these capabilities are not available. Due to costs and complexities of providing on-prem alternatives, multi-tenancy will no longer be available;
Visio Services: Rendering based on Silverlight will no longer be supported effective October 12, 2021. Switching to PowerBI is the recommended solution; and 6. Code-based Sandbox Solutions: These customization packages deployed at the site collection level have already been removed from SharePoint 2013 and SharePoint Online. They will be removed from SharePoint 2019. SharePoint add-ins are the suggested alternatives.
Summarizing the added new features and the deprecation of others, is a handy cheat sheet below: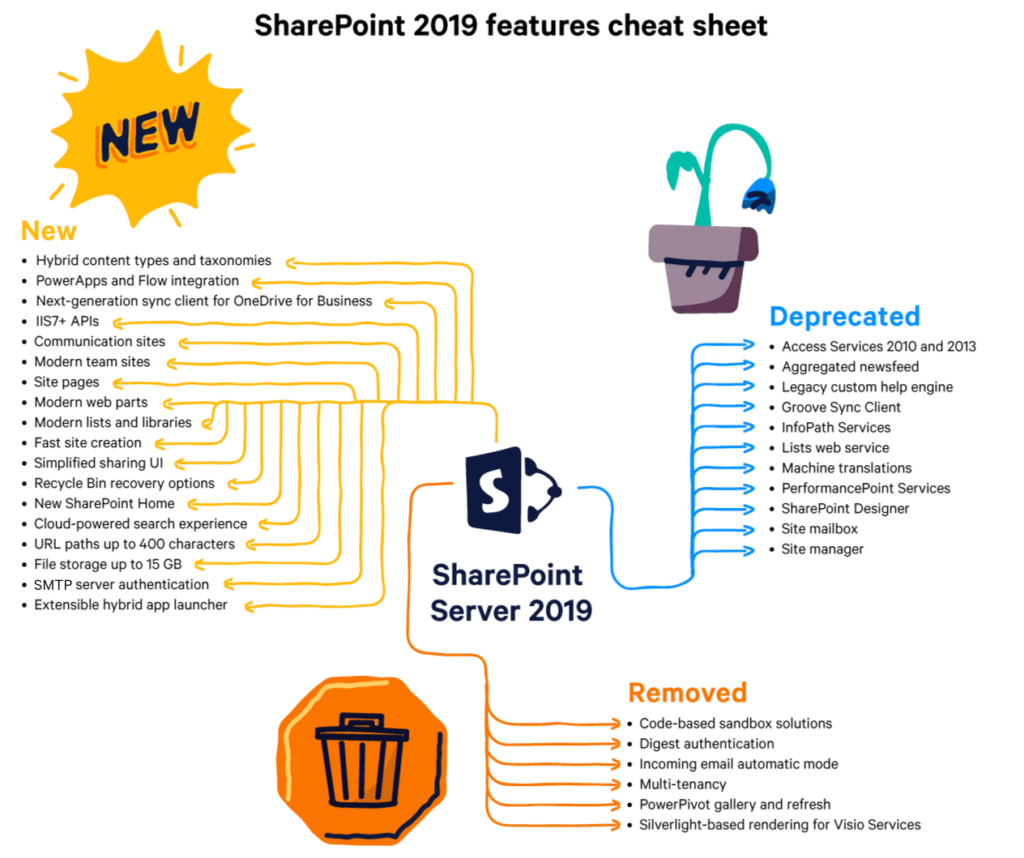 The Modern Experience is not only here to stay, but it is being integrated into SharePoint 2019. If an older version of SharePoint on-prem is being used, it is highly recommended that the upgrade to SharePoint 2019 be implemented. With nearly all the modern functionalities available, it will bring on-prem up to par with SharePoint online. With SharePoint 2019, user experience and collaboration become modernized with greater ease of access and use for individuals and teams.
About Me
About Me
Welcome to my Office 365 blog and thank you for taking the time to get to know me better.
I am a Microsoft Office 365 MVP with 24 years in Information Technology consulting, 16 years of this experience with expertise in SharePoint and the Microsoft Content Management System.
I am an active member of the SharePoint Community and have been a guest speaker at numerous events, including SharePoint and corporate events, functions, and conferences at local, regional, national, and international levels.
As a Cloud Solutions Architect, I provide Office 365 and Azure services including architecture planning, migration, and governance for medium to large-scale organizations. My designs, architecture, and implementation for Office 365 solutions include Teams, SharePoint, Content Services, Collaboration, Power Platforms, and Search.
Our community of SharePoint members is a collaborative team, and I am fortunate that I have opportunities to meet and work with many talented colleagues. I hold great respect for their passion and dedication and am proud to be an active member of the Microsoft Office team specializing in SharePoint technology.
My articles contain valuable, up to date information and should you have any questions or have inquiries as to services that I can provide you, please click on the Contact Me button at the top right and complete the form. I will be happy to connect with you and answer your inquiries.