Office 365 Communication Site

The Basics of the Office 365 Communication Site

What is a SharePoint Communication Site?
There are two types of sites that can be created to share information in SharePoint, but these sites target different audiences. As you are already familiar with, the Team Site audience comprises of the members of your team on a specific project. All or most members of a Team Site can contribute content to the site and this information is limited to the members of the team, members of the project, and specific stakeholders. The purpose behind Team Sites is for communication for collaboration between team members.
On the other hand, a SharePoint Communication Site is just that – it is used to communicate to a broader audience including other project teams or the entire organization. Unlike a Team Site where the majority, or all, of the members can contribute content, a small set of members contribute content to the Communication Site. The Communication Site is the platform for sharing important information with others, especially those outside of your project team either on weekly or monthly basis; thus, content may include news, reports, statuses, product launches and other information that may be of interest to the broader audience.
Communication Site content has been adapted to be mobile friendly while dynamically displaying and delivering content in visually compelling formats. Office 365's Communication Site continues to offer mobile accessibility for SharePoint on the go and with the Cloud.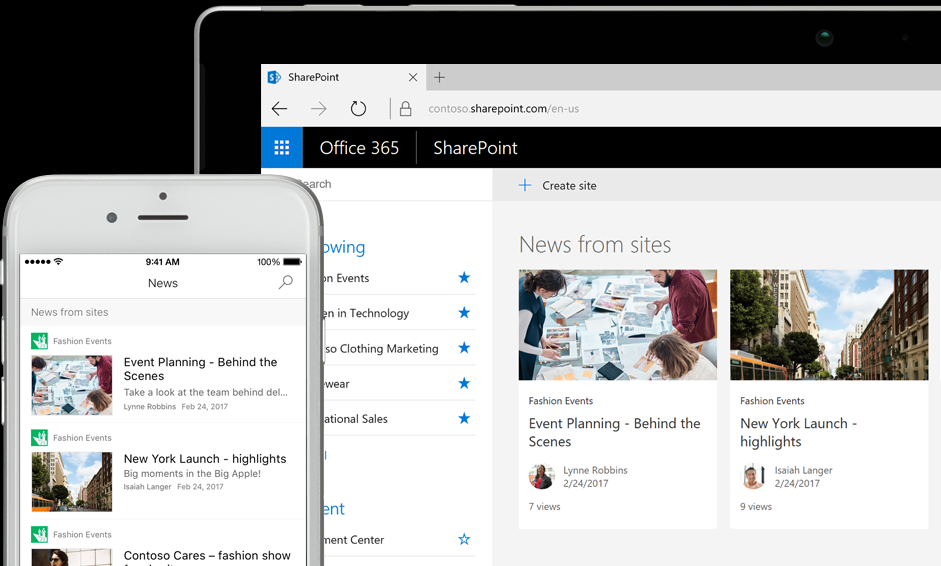 Image showing News and Site Cards on Smart Phone and Tablet
Source: https://products.office.com/en-us/sharepoint/collaboration
Is it Easy to Create a Communication Site?
As with all Microsoft products, the development team has maintained its user-friendliness with Office 365 Communication Site creations. There are three templates for creating new Communication Sites. The three initial site design templates are topic, showcase, and blank.
Each template is completely configurable and contains pages within each template. These are also configurable.
The Topic template is the best choice when there is a large amount of information to share. This information may include events, news, and other content.
The Showcase template is used for "showcasing" or featuring a team, product or event through the use of images or photos.
The Blank template can be configured and customized to your specific needs.

Communication Site Designs (left to right): Topic, Showcase, Blank
Source: http://blogs.office.com
Once you have created your new Communication Site, you can then drag and drop to reorganize web parts on the page to highlight, showcase and announce the news to your broad audience. News and pages allow for multi-column layouts, providing the ability to creatively design and communicate your messages in a meaningful and intuitive fashion.
What Content Can Be Shared?
Feeling a little inundated with update emails? Communication Sites can alleviate the email jam by allowing you to share your plans and updates in interactive and engaging ways. By creating a page on a Communication Site, real-time data can be pulled across from Office 365 by embedding documents and videos. This information can come from SharePoint documents, reports from Power BI, Microsoft Stream videos and discussions taking place on Yammer, all of which provide current, dynamic and rich internal communication. All members can keep informed and for new members, it is a point from which they can gather information to quickly get up to speed.
Where Can Office 365 Communication Sites be Connected From?
Not only can you access the Communication Site from your mobile app, but you can access, create content and engage with others from any device. The full site, news, pages, navigation, search, and additional functionalities are natively viewable, engaging and functional. From within the mobile SharePoint app, you can engage in a Yammer conversation, create a news article or read a page – all from within the context of the site.
How Else Does Office 365 Communication Sites Enhance and Encourage Communication?
Communication Sites communicate effectively and efficiently through visually dynamic pages. Your home page and sub-pages can be customized to meet your needs, but most importantly they can be made to look great! Full-width layouts, spanning the page left to right, provides the page space to emphasize your most essential information. With the enhanced title region and customized header image, along with full control over what portion of the image is the most important to highlight, visually presenting your home page, news and subpages with an attention-grabbing header graphic and title will not only look great on your desktop, but also on your mobile device.
It is not just enough to communicate the recent news to your audience, but it necessary to engage in discussion, thereby, retaining your audience. With the ability to comment on each news article and page, it allows your audience to provide feedback, which in turn can be used for the improvement of the page, article or project.
A valuable feature is the ability to share the news via email. Unlike other shared information via email, news shared from a Communication Site will not only provide a blue link, but it will also provide a visual (thumbnail) and an informative preview (title, description) that adds context to the news article and email. The ability to provide a message from the sender is also available.
What is Displayed and Where Does the Data Come From?
As mentioned, the data displayed is dynamic and is pulled from either Microsoft Stream (videos or full channels) or Power BI (interactive reports). Other sources of information and data can be pulled by adding web parts into your articles. The first type is an Image web part which allows insertion of images and GIFs. Sometimes there is too much content to be shown within the first view, truncating all other highlighted content. In these cases, selecting the "See All Pages" which proves to be handy. When chosen, a full-page experience appears, providing a full view of all the content and activity. The last web part is the "News" which is used to showcase your news by using multiple layouts to highlight what is important. Layouts include Top story layout, which is the default, or List where you can view news in a list, or Side-By-Side.
In this installment, we have determined:
1. Why and when do you use a Team Site versus an Office 365 Communication Site;
2. The simplicity of creating a new Office 365 Communication Site;
3. What content is shared on a Communication Site;
4. Where and what content can be shared from a Communication Site;
5. Where can an Office 365 Communication Site be connected from;
6. What devices can connect to a Communication Site;
7. How is communication enhanced and encouraged by Office 365 Communication Sites; and
8. What is displayed and where does the data come from.
From these, we now have an understanding of why we would create a Communication Site. With this understanding, we can now proceed to look at the Office 365 Communication Site in greater detail.